Eastwood 6 win Cup competition
September 2021
Eastwood 6 got off to winning ways in the opening event of the Basildon Adult League season. These begin with four cup competitions across the divisions and team 6, who are new to the league and placed in Division 6, took on teams from Divisions 5 - 7 in a rally format tournament for the Marshall Shield. Playing against 8 other teams, they finished top of their pool and then went head to head in the final against the winners of the other pool, Southend Sapphires Black from Division 5. A close fought match followed with it being level at full time and play continuing until a Golden Goal was scored. The young Eastwood team held their nerve and scored the winning goal to start their celebrations. The picture is of the happy team with their coach, Graham Hinman, after the win.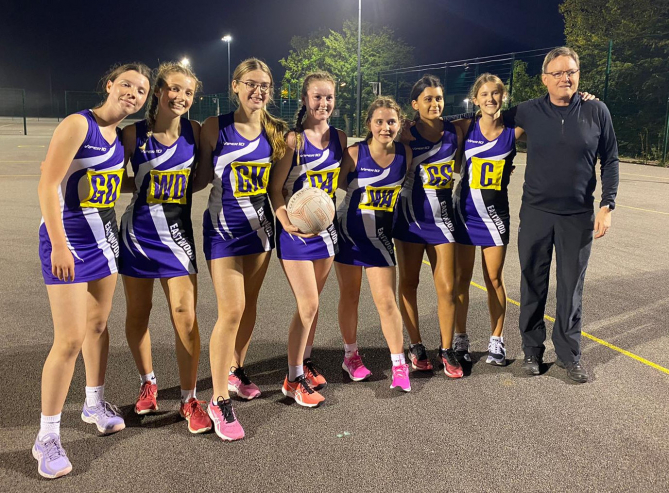 New Level 2 coaches
August 2021
With the end of Covid restrictions, Grace and Graham Hinman were able to complete the final stages of their Level 2 qualification which had been delayed since March 2020. They are now both fully qualified and can lead sessions on their own. It adds further strength to our coaching team and hopefully as things unwind more courses will be available to our other members to get these qualifications.
Well done to Grace and Graham.
Finally returning to Court
April 2021
After many months we will be returning to court with training restarting on Friday 9th April. We will still be restricted by COVID protocols but at least we are back. There will be a Junior League in Chelmsford for all age groups from April through to July and an adult evening league in Basildon for 7 weeks from 21st June for our older teams
It is just so good to be able to do something positive.
More Successes with Franchise Placements
October 2020
Further to the announcement below we are pleased to announce that Esme Robb and Poppy McMillan have been offered places in Saracens Mavericks under 17 squad.
In addition Saffron Gomes has been selected for the Saracens Mavericks Hub squad based in Basildon.
Latest Successes with Franchise Placements
September 2020
We are very please to be able to announce that several Eastwood players have won places with London Pulse squads.
Grace Rothwell has been selected for the Pulse Under 19 squad and the following have been selected for the Pulse Hub squads
Emily Fessey-Cook
Lexie Hurley
Georgia Logie
Jenna Logie
We wish the girls every success with London Pulse.
Friday Training to resume.
August 2020
We will be resuming training on Fridays at Deanes Sports Centre Daws Heath Road Thundersley on Friday 11th September.
Times of each age group will be
Years 6 and 7 5.30 to 6.30
Year 8 4.30 to 5.30
Year 9 5.30 to 6.30
Year 10 4.30 to 5.30
Year 11 4.30 to 5.30
These times will be reviewed in December or earlier if the Nataional situation changes and we will be charging reduced fee for training of £25.
Jackie hangs up her trainers
July 2019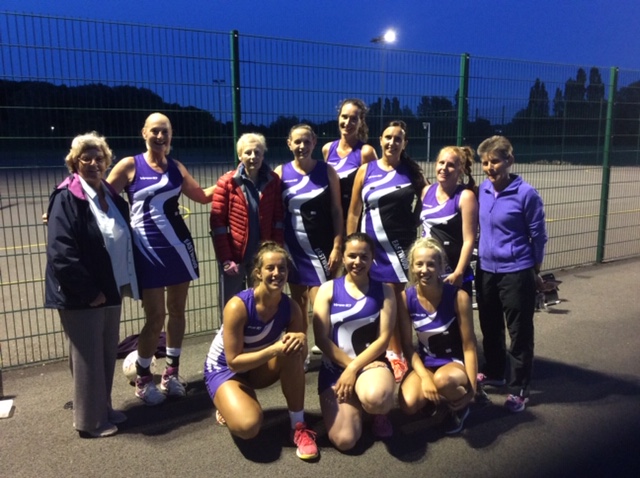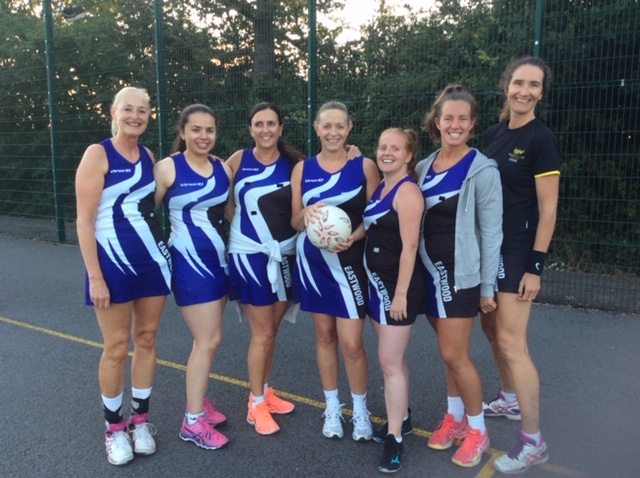 Jackie Causton, (pictured above centre in both pictures) played her last game for Eastwood at the end of this summer league before retiring. Jackie has played continuously for the club apart from two family intervals for the past 29 years.
She started playing when she was 12 and during that time has played a large part in many of the Eastwood successes. As an under 16 she led her team to the finals of the England Netball Under 16 club competition where they finished joint 5th. Later she captained the Regional squad and led them in numerous campaigns and achieved success by leading the squad to promotion to Division 1 of that league. She also played for East Essex and East Region when there were county and regional teams.
In the many years she has played there were many cup and league successes but one of the highlights was as captain of the second team when Eastwood won all three Knock Out cup competitions on the same night when the Cup finals were played simultaneously.
In more recent times Jackie stepped down from higher level competition and concentrated on playing in Eastwood 3 who play in Division 1 of the Basildon League and her final game was a victory which took that team to the top of the summer league in Pool B.
The pictures show Jackie with her team mates from her lastTeam 3 game plus, in the top picture, other team mates plus Philippa, her coach for many years, and Gill, her mother and most ardent supporter. We all wish her a happy retirement from playing and she has our good wishes for the future.
End of Summer Season round up
July 2019
The club has had another successful summer league season in the Basildon league with four of the five teams entered collecting trophies. Eastwood Yellow were runners up in Pool A losing only one game and Eastwoosd 3 and 6 were winners of Pool B and E respectively. Eastwood 4 came runners up in Pool D.
Well done to everybody.
Eastwood Under 15's squad qualify for Regional Youth League
June 2019
The club's under 15 squad competed in the entry competition for the new East Region Youth League against 20 other clubs on a hot day at Stanborough School in Hertfordshire. Despite losing their first game, the squad went on to be unbeaten for the rest of the day and will compete next year in the Under 16 Division 1 of this new league. It will be played once a month and various venues around the region and the top two teams will then go on to represent the Region at the Under 16 National Clubs finals in April/May. Unfortunately our under 13's were less successful and did not qualify.
This is a picture of the under 15 squad at the end with their coach Lucy Davidson
Eastwood Academy successes
November 2018
We are pleased to announce that the following Eastwood players have beeen selected for various stage of the England Performance Pathway.
To start with we have to mention Eleanor Butt and Grace Hinman who were selected for the Mavericks under 19 squad but since then Eleanor has been moved into the under 21 Group so very well done to both of you.
Below the Mavericks age banded squad is the Mavericks hub and here we have Niamh Blake, Hannah Phipps and Maisie Robins. In the Satelitte academy trials Olivia Mainhood and Evie West were selected this year so we have representation in nearly all the levels of the pathway and we wish all of them every success.
Addition Nov 2018
Since posting the above we have had two more successes in the academy structure with Harriet Lawrence and Georgia Logie selected for the County Year 7 Development academy which has been inaugurated this season.
Well done girls
Eastwood double success in the Basildon Cup competitions
Sept 2018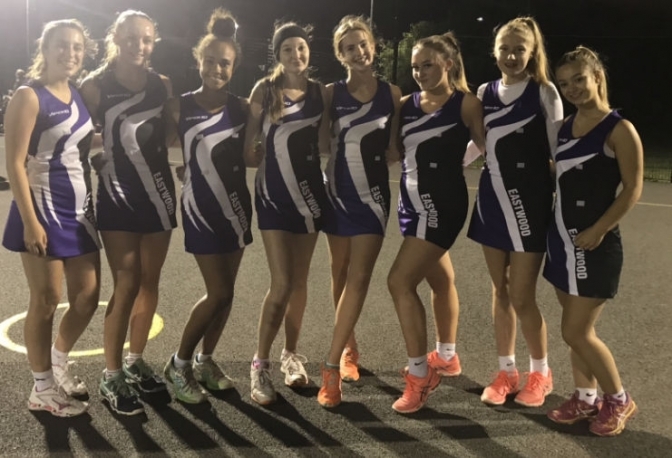 Eastwood 4 after their cup victory
Eastwood 4 produced a stunning display of controlled netball to win the Marshall Shield competition in the Basildon league season opening event. Previously this competition was a knock out cup format but this has been changed recently to a single evening rally. It is played for by the teams in Divisions 5 - 7 and with Eastwood 4 having been promoted into division 6 for this season they were up against some higher ranked teams. With skilled play all down the court and good shooting from the circle players, the team won all their pool games and then won the final against Flames Red 7 - 3.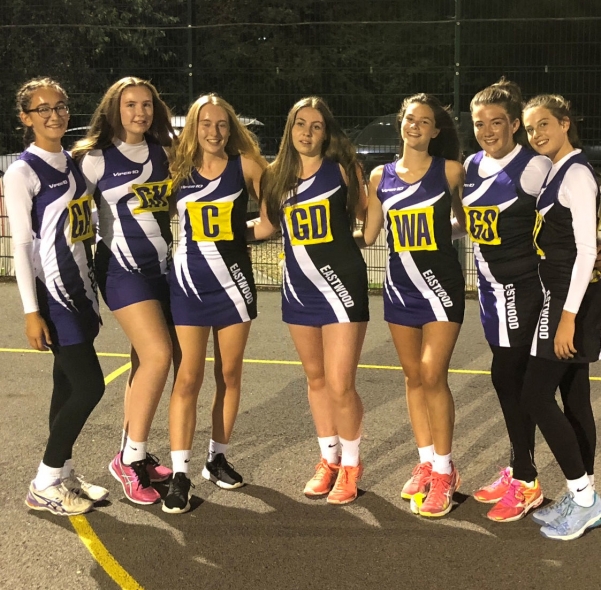 Eastwood 6 after their victory - Another happy group
The following day Eastwood 6 produced a similar performance to win the Scannell Cup for teams in Divisions 8 - 11. A very tight defence, who only conceded 5 goals in all their pool games, was the platform for the attack to overwhelm their opposition with fast attacking moves and good shooting. Like the previous evening the team won all their pool games and then won the final easily.
A very good start to the season for Eastwood.
Falcons and Harriers in Cup success
April 2018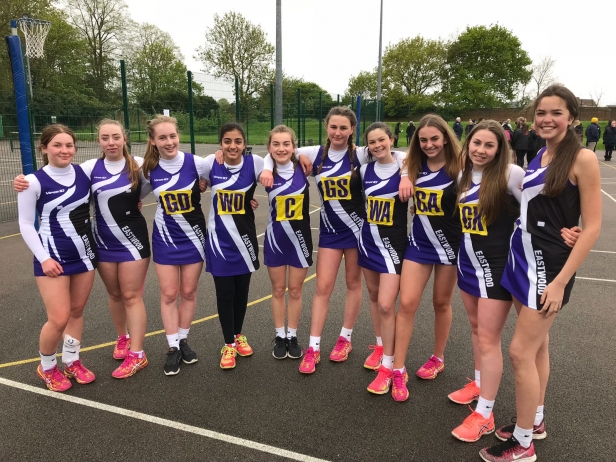 Eastwood Falcons after their win
Eastwood's year 9 Falcons won the Junior League cup against determined opposition from Saffron Hawks. Having gone into an early lead, the closeness of the game was such that the lead changed hands several times. The Falcons were 3 goals down going into the last quarter but their greater discipline brought the scores back level and then went one goal up in the last minute to win. This success came a week after teh Year 8 Harriers won the plate competition on Goal Average from Flames. Well done to both teams and to their coaches Lucy and Rianna.
Eastwood players contribute to schools successes
January 2018
A significant number of Eastwood athletes helped their schools to Regional success in the England Netball East Region Championships held on 27th January in Hertfordshire. In the Under 19 section SEEVIC were champions with Jessica Doyle, Maddison Dyer, Grace Gunn and Georgia Sasse in their team.
Southend High were also crowned Champions in the under 16 section with a team comprising almost all Eastwood players Eleanor Butt, Grace Hinman Holly Lawrence Alicia Lindsay India Perry and Hannah Phipps. Both these squads will now compete in the National finals in March at the same venue Stanborough School.
Mention also ought to be made of the Southend High under 14 squad which had 4 Eastwood players Sara Anwar, Naimh Blake Maisie Robins and Eleanor Webb. They made it through the pool stages but we beaten in the semi finals.
Eastwood are East Essex under 16 champions for 2017.
November 2017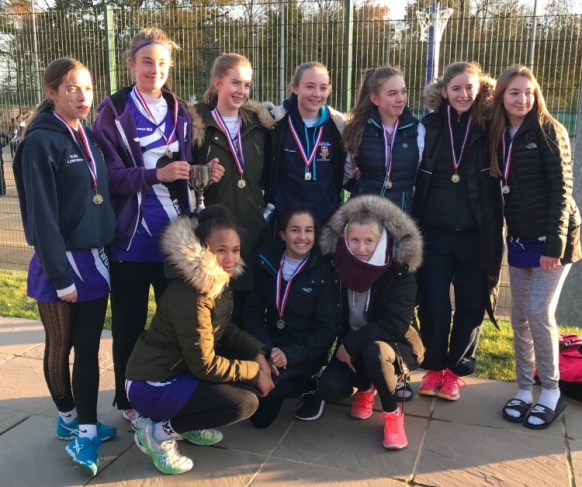 On a very cold November Sunday the Eastwood Under 16 squad went undefeated all day to become East Essex County Champions in the County Round of the England Netball National Clubs competition. They will now progress to the Regional Finals in April where they will meet the winners and runners up of the other 6 counties that make up the East region. The photograph shows them after the presentation showing off the cup and their medals and looking suitably pleased but wrapped up against the biting wind.
Eastwood players enter Mavericks squads
October 2017
Seven young players from various Eastwood teams have been selected to join the Mavericks age banded squads. Sewa Adedoja, Grace Gunn and Georgia Sasse in the under 19; Eleanor Butt - Under 17; Jessica Doyle, Grace Hinman and Hannah Phipps in the Maverick hub at Basildon. We are delighted with their progress and look forward to seeing them in action later in the year in Maverick colours.
Eastwood 5 at the Basildon Presentation
September 2017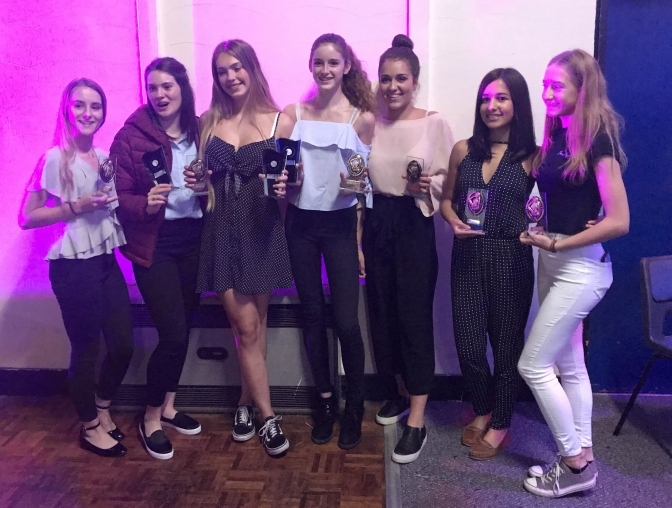 Eastwood 5 collecting their trophies as runners up in Division 8 last winter, winners of summer league Pool H and being runners up in the Scannell Cup competition.
New Level 1 coaches
August 2017
We are please to announce that four members of Eastwood have achieved their level 1 coaching award. One, Emily Symons is a player in Eastwood 4 but the other three are parents who decided to take the plunge and see what coaching is all about so they could make a positive contribution. The three are Hayley Brown, Sarahjane Langridge and Graham Hinman and we are delighted to welcome them into the coaching team
Mavericks Trial successes
July 2017
We are pleased to announce that three Eastwood players have been selected for the 2017/18 Mavericks Youth training groups. Those selected are Sewa Adedoja, Eleanor Butt and Grace Gunn. Well done girls and we look forward to seeing you next season.
Basildon Summer League round up
July 2017
The club have had a very sucessful summer in the Basildon Pick and Mix Summer League with four out of the five teams entered all winning their pools and the remaining team coming third in a pool won by an Eastwood team. Congratulations to all those who played and their coaches.
Year 8's do well at Colchester
July 2017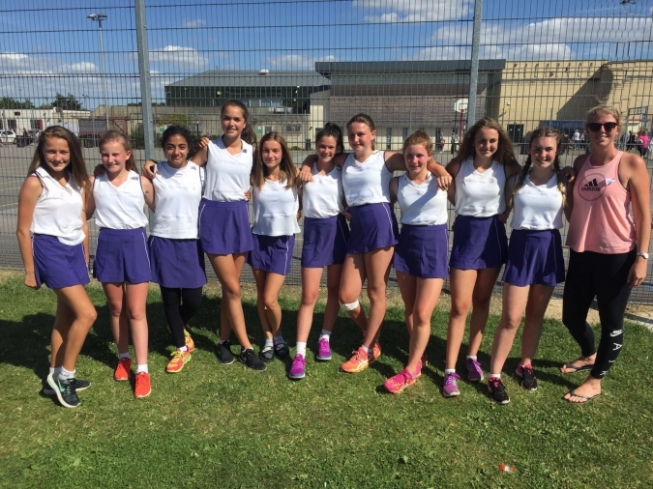 The Eastwood Year 8 Falcons competed in the Colchester Rally and achieved a very creditable 3rd place out of 12 entries. The picture shows the group with their coach Lucy.
Basildon League round up
March 2017
The club has had another good season in the Basildon Adult league with the first team placed third in Premier and the second and third teams doing enough to maintain their place in the Premier and 1st divisions respectively. Eastwood 4 were runners up in Division 2, the top two places being decided on Goal Average. This is an outstanding performance considering that they were promoted from Division 4 the previous year. Eastwood 5 were runners up in Division 7 and our new team Eastwood 6 finished 3rd in the divison 8.
Well done girls and we look forward to an equally good summer.
Cup Final
March 2017
The Hawks were unable to complete their amazing run of successes in the Junior League Cup final as they were beaten 37-19 by a strong squad from Saffron Hawks but it should not detract from their successes in beating Flames Hurricanes and Conquerors Vikings in the preliminary rounds. Both of those sides are higher placed in the league than the Hawks so those in themselves can be considered to be an upset.
Club Reaccreditation
December 2016
The club has under gone its regular reaccreditation under the England Netball CAPS scheme. This is the process which examines our procedures and standards as well as checking that all our safeguarding arrangements are in place; that all the coaches have DBS clearance and that it is considered a safe environment for the young players. We are please to announce that the Club has been reawarded its Silver level and this we will hold for the next four years. With it comes the Sport England ClubMark standard.
Academy selection success 2016
July 2016
We are pleased to report that again this year Eastwood's young players had featured in the selection of players offered places in the various academies. Sewa Adedoja and Georgia Sasse have been offered places in the Regional Perfomance academy and Rachel Belcher and Eleanor Butt are in Regional Academy with Grace Gunn and Jess Doyle still be be screened.
In the Essex academy set up Grace Hinman has been selected for County and Phoebe Langridge, Holly Lawrence, India Perry and Hannah Phipps are all in Satellite academy.
Well done to all of you.
Basildon Round up
July 2016
Eastwood had a good year in the local Basildon League with the first team coming 3rd in the Premier division and the under 16 group who play as Eastwood 2 finished mid table in Premier in their first year at this level. Eastwood 4 also had a good season winning Division 4. In the summer both Eastwood and East 4 won thier respective summer pools being undefeated.
Eastwood Year 7 Falcons
June 2016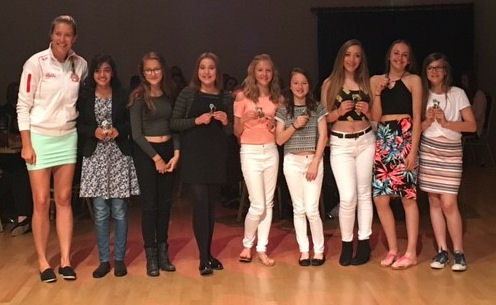 The Eastwood year 7 Falcons, a new team this year and coached by Lucy Davidson, were runners up in their division in Junior league and are seen here having collected their trophies from Lindsey Keable, England and Mavericks Defender and former Eastwood player.
Sewa Adedoja selected for England Netball National Academy
March 2016
Eastwood are delighted to be able to announce that Sewa Adedoja has been selected by England Netball as one of the 32 long squad members of the National Academy. The National Academy consists of those athletes from whom the final squad of under 17's and under 19's will be chosen to represent England in the 2017 European Championships. Sewa is currently a member of the Eastwood Eagles in Junior league but also is part of the squad playing in East Regional League Division 1.
We wish her every success for the future in this academy.
Eastwood players to represent East Region
June 2015
Four of Eastwood's under 15 squad have been selected to represent their East Region academy in the National Foundation league event in Sheffield in July. This competition held over a weekend brings together the best under 17 players in the country as a forerunner to the Performance league which is for under 19's. The players selected are Poppy Douglas, Grace Gunn. Lucy Perkins and Georgia Sasse and we wish them every success.
Successes at Regional screening
May 2015
The junior players of Eastwood continue to impress the selectors at regional Level with 6 being taken into the Regional Academy either being selected or reselected . They are Sewa Adedoja, Rachel Belcher, Poppy Douglas, Jessica Doyle, Lucy Perkins and Georgia Sasse; one more Eastwood player has yet to be seen due to injury. In addition to their selection for the Academy, Sewa and Poppy have been given a trial later in the year for next season's Mavericks Youth squad. Poppy and Lucy have also been selected to represent the East Regional Academy in the National Performance Foundation league, which is for under 17's, and this will take place in Sheffield in July. We wish them all every success.
Eastwood under 16 achieve 12th place at National finals.
May 2015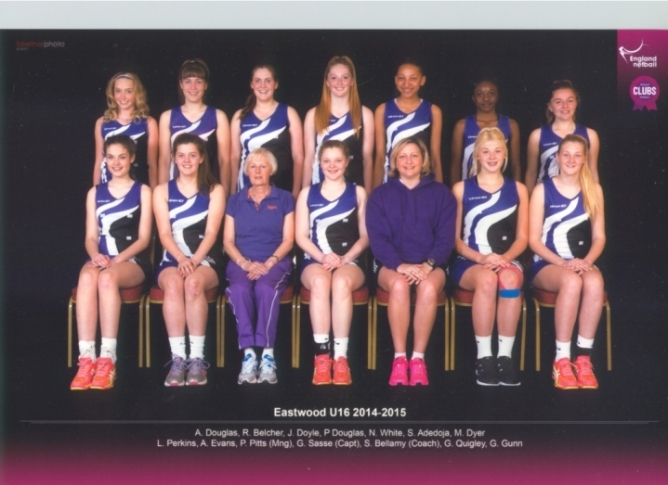 Photo:Take That Photography
Eastwood's under 15 squad took part in the Under 16 National finals as Redbridge in May. Having been at the Under 14 finals last year they knew that this would be a much harder task. Despite that they won two of their pool matches on the Saturday to go into the third stage on the Sunday competing in the 7th /12th position group. Two injuries took their toll of the team and they just lost out in the 11th/12th place playoff. It was however valuable experience for next year when they will be able to compete again.
Year 7 Hawks win Junior League Division 2
May 2015
The year 7 Hawks pulled off a great success in winning the Year 7 Division 2. They finished the season unbeaten with 13 wins and 1 draw and will now play in Division 1 next year. The title was won in the last game of the season when they showed real spirit in coming from 4 behind going into the last quarter to beat close rivals Flames by 3 goals. Well done girls and well done to coach Rianna.
Eastwood Eagles win Year 9 Junior league
April 2015
Eastwood's year 9 team completed a league and cup double by winning the league with two matches still to play. With 10 of the 12 matches played they are undeafeated so at this stage they can not be caught by any of their rivals. Congratulations to all the players.
Eastwood Regional team win promotion to Division 1
April 2015
At the end of a long season Eastwood are returning to Division 1 of the East region League as winners. Having been relegated at the end of the previous season it was a key aim to bounce back and this was achieved with a game to spare.
Under 16's win through to National Finals
March 2015
Eastwood's under 16 squad have qualified for the National finals of England Netball Clubs competition for the second year running. Last year is was as under 14's but this year it is at the next age group up which makes it a great achievement as most of them are under 15. On a very windy and wet day in Bedford, the team defeated clubs from other counties in the East Region in the pool matches to go through to the play-off stages as pool winners.
A close match against Norfolk United was followed by a semi final against Grangers but victory here led to a final encounter with Turnford. Although they were beaten in the final, both teams go through to the National Finals in Redbridge at the beginning of May when they will be up against the two finalists of each of the other 8 regions in England.
Eastwood Kites win Year 8 Plate
March 2015
Eastwood Kites won the Junior League Year 8 plate competition. This competition is for those teams who were knocked out of the cup in round one and the Kites were unlucky to be drawn against the League leaders Braintree in round one. However they made up for that disappointment by beating all the other teams in the tournament.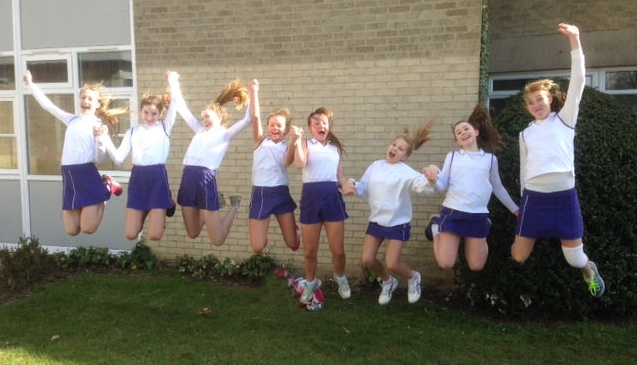 Eastwood Eagles win Junior League cup final
Feb 2015
Eastwood year 9 squad won a tense final against rivals Conquerors in the year 9 section of the Junior league cup competition. Having eased throught the preliminary rounds and semi finals, the Eagles were pitched against Conquerors Pharoahs, one of the teams who defeated them in the County round of national clubs in December. The Eagles got off to a poor start and were trailing 2 - 8 at the end of the first quarter but some tactical changes to the team's line up started a recovery and level pegging. During a tense last quarter both teams traded goals but Eastwood managed to get their noses in front with seconds remaining and held on to win 17-16.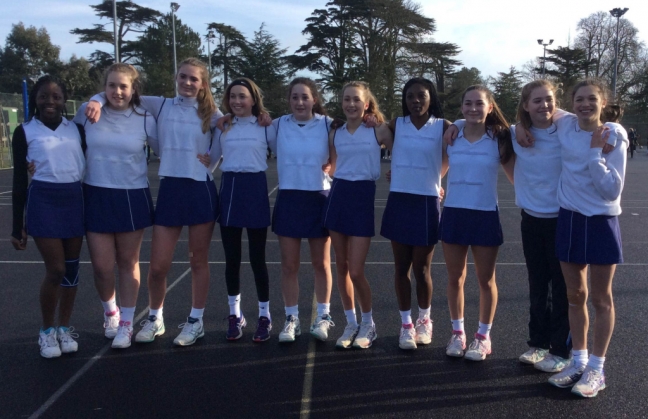 Eastwood Eagles cup winning squad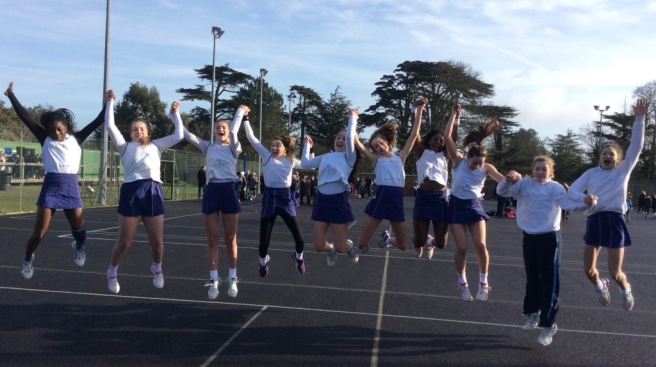 Eastwood finish 4th in the finals of the England under 14 National clubs competition.
May 2014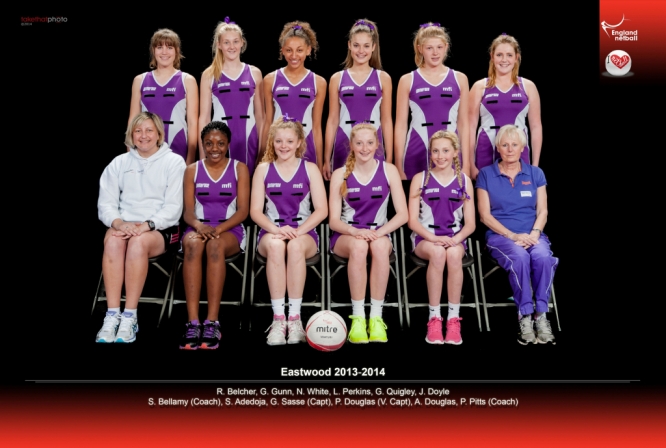 Eastwood's under 14's continued their successful year with a tremendous performance at the finals at the England Netball National clubs Under 14 Championships in Sheffield. Having qualified as runners up in the East Region they joined the winners and runners up from the other 8 regions. On the Saturday morning they were drawn in a pool against the winners from North East and South West. The first game was a convincing 31-9 win over Oaksway (North East) and this was followed by a much tougher match against Hucclecote (South West) which they ultimately won 21-17.
In the afternoon the pools are redrawn so that as winners from the morning they had to play a second and third placed team from another pool. The first match against West Brom was very one sided with Eastwood winning 22- 1. The second match was tougher but the win against Futureprint (East Mids) was still convincing at 22-14 and being unbeaten on the day meant that they had qualified for final day as one of the top six teams. The first match on Sunday was against Woodley (South) and the team responded magnificently to come back from 1-6 down at the end of the first quarter to win 15-14. The second match was against Ribble Valley (North West) and this they lost 11-19 but as Ribble Valley finished the weekend as National Champions it was no disgrace. That meant a play off for third place against MK Netters (South) and again there was a comeback from being 5 goals down to a draw at full time. However they went down 24 - 21 after extra time. To lose in extra time was disappointing but once the realisation had sunk in that they were still the fourth best in the country some very tired but very happy players returned home.
This post would not be complete without a special mention to their coach Sarah and to thank their parents who travelled and supported all weekend.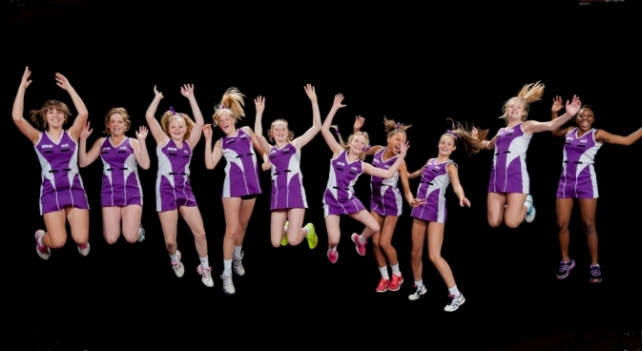 Eastwood Juniors in cup success
April 2014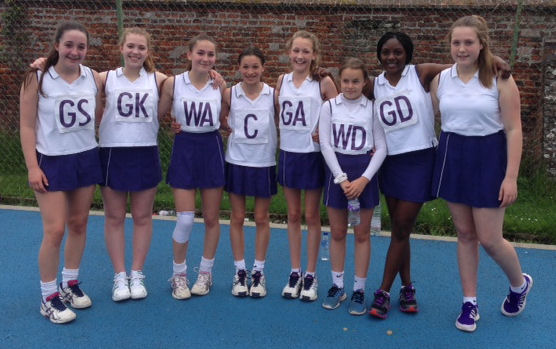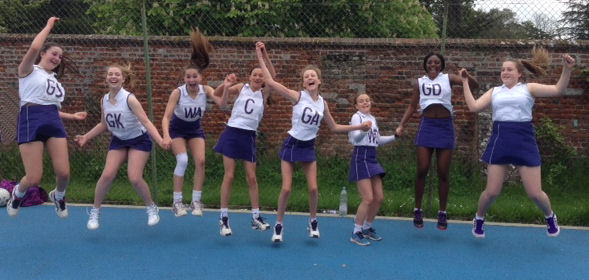 The victorious Eagles after their cup win over Tegate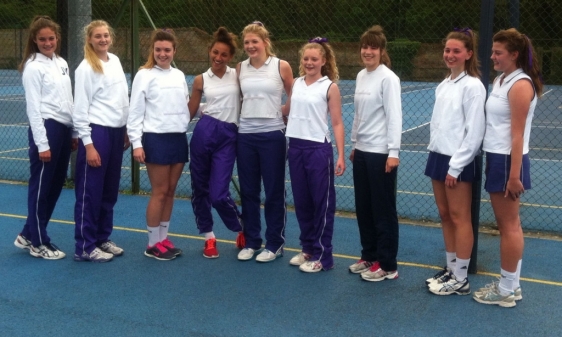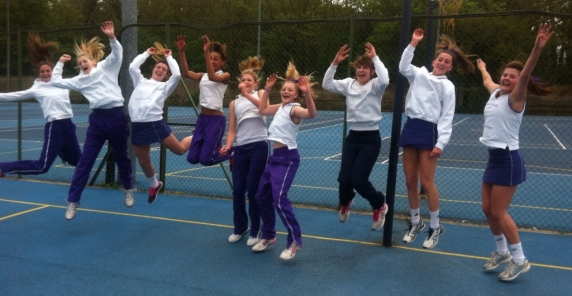 And the Kestrels show they are very happy too.
Eastwood's impressive cup run continued at the cup finals at New Hall. First team to play was the year 8 Eagles who were matched against Tegate and came through with an impressive victory 19 -16. They were then followed in the year 10/11 age group final by the Kestrels who were drawn against old rivals Conquerors Apachees. The Kestrels went into an early lead 9 - 2 and although Apachees came back at them, the Kestrels held on to win 31-28. As well as the pictures above there will be others on the Gallery page.
Although the year 7 team did not make the finals of the cup, losing at the semi final stage they did win Division 2 so to make the semi finals of the cup was a great achievement.
Congratulations to all the players and their coaches.
Eastwood under 14 squad qualify for the National finals
March 2014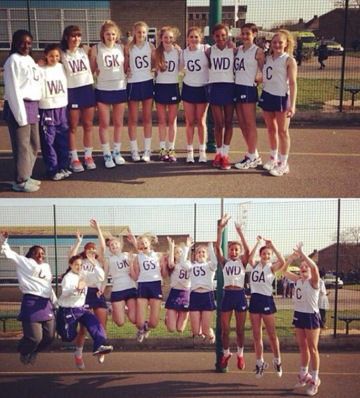 On a warm day Eastwood under 14 squad qualified for the finals of the National clubs age banded competition in Sheffield in May. Having already won through the county round, they were pitched against the best club teams from the other counties in the East region. They won all their pool games and then through the quarter and semi final stages to the final which they lost by a single goal in extra time. Well done to all the squad and to their coach Sarah.
Ella Glazier awarded Player of the Season
October 2013
Eastwood player Ella Glazier was awarded the Player of the Season by the Basildon Netball League at their awards evening in September. This award is voted for at every match and is the person chosen by the opposition as the player having made the greatest contribution for her team. The awards are split between various divisions and Ella received her award as being the player with the greatest number of votes in the top three divisions.
Ella played in Eastwood 2 as well as being a member of the regional squad.
Dads vs Girls Match
July 2013
At the end of a long season the Dads challenged the under 14 girls to a match. The result was a win for the girls 16 - 12 but whilst they had the superior skills the Dads had a height advantage which they used to good effect the more the game progressed.
Eastwood under 16 win Colchester Rally
June 2013
Eastwood's sucessful run continued with a win at the Kats rally in Colchester. They won all their games although there were close matches against Manor and Crosskeys. Well done to the team and their coaches Jadie Kent and Rianna Reid.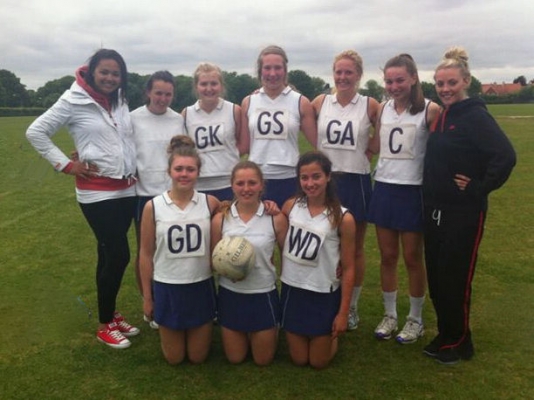 Eastwood's successful visit to play Netball Switzerland
June 2013
At the end of April Eastwood club went to play the Swiss National sides. We were one of the clubs recommended to Netball Suisse by England to take part in a weekend competition to aid their development programme. A total of 28 players and coaches travelled to Geneva and spent both days in competition. The Regional Open squad took the Swiss Open squad & Scottish Universities on both Saturday and Sunday and our under 16 and under 14 squads played Swiss talent groups on the Saturday and then on the Sunday the under 17 and under 15 national sides. In addition to providing them with outside competition, Netball Suisse were using the weekend as part of a development programme to assess new umpires and umpire tutors. Eastwood's teams were successful in winning all their matches but more importantly made a lot of friends in a developing part of the Netball world.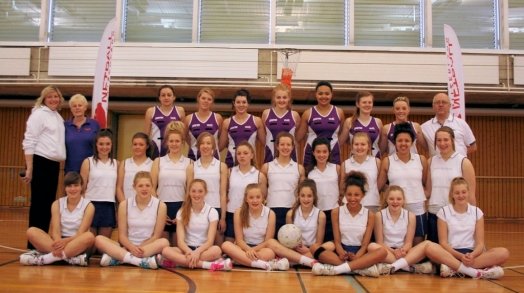 Photo courtesy of Julianne di Nenna Netball Switzerland.
Megan Clark and Naomi Falk selected for England long squads
Hot on the heels of the FENA under 17 championships - see item below - the national selection process for 2013 was held at Loughborough at the end of March 2012. We are delighted to announce that Megan Clark was reselected but this time for the under 19 squad and that her club team mate Naomi Falk was selected for the under 17 squad. The long squads consist of 20/25 players who will be trained together over the next nine months and whittled down to a match squad of 12 for the European Championships to be held in March 2013
Megan Clark wins England Under 17 Caps
2012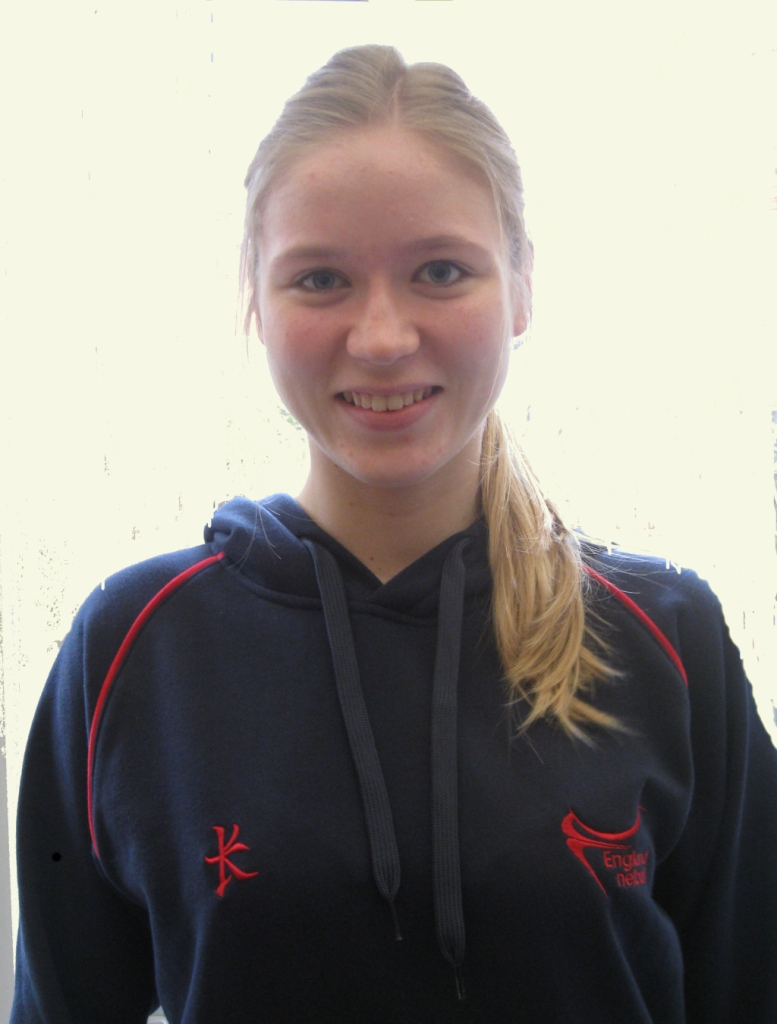 Megan Clark won her first England Cap in the FENA under championship held in Glasgow in March 2012. She came off the bench to gain her first cap in the 62 - 29 defeat of Wales but was troubled by a slight ankle strain and was substituted but made up for it the following day in the match against Northern Ireland. To quote from the England Match report
"The second quarter saw Megan Clark take the court at GD. Clark stamped her dominance on the game from the start and in combination with De Winton, the Irish centre court were forced to return the ball back to the line where prolonged pressure eventually led to the ball being returned to the English side."
Megan is a member of our first team as well as being part of our Regional League squad. We are very proud of her acheivement.
Goalden Globe success
2011
John Pitts was awarded the Mary Bulloch Trophy as Administrator of the Year at the England Netball Goalden Globe awards in Leicester in September. This prestigious award is named in honour of the former editor of the England Netball magazine who undertook the role for 30 years. John was selected by the panel of judges for his work not only with Eastwood but also as Chair of East Essex, Regional Treasurer and organiser of the East Regional Round of the National School competition for the past 8 years.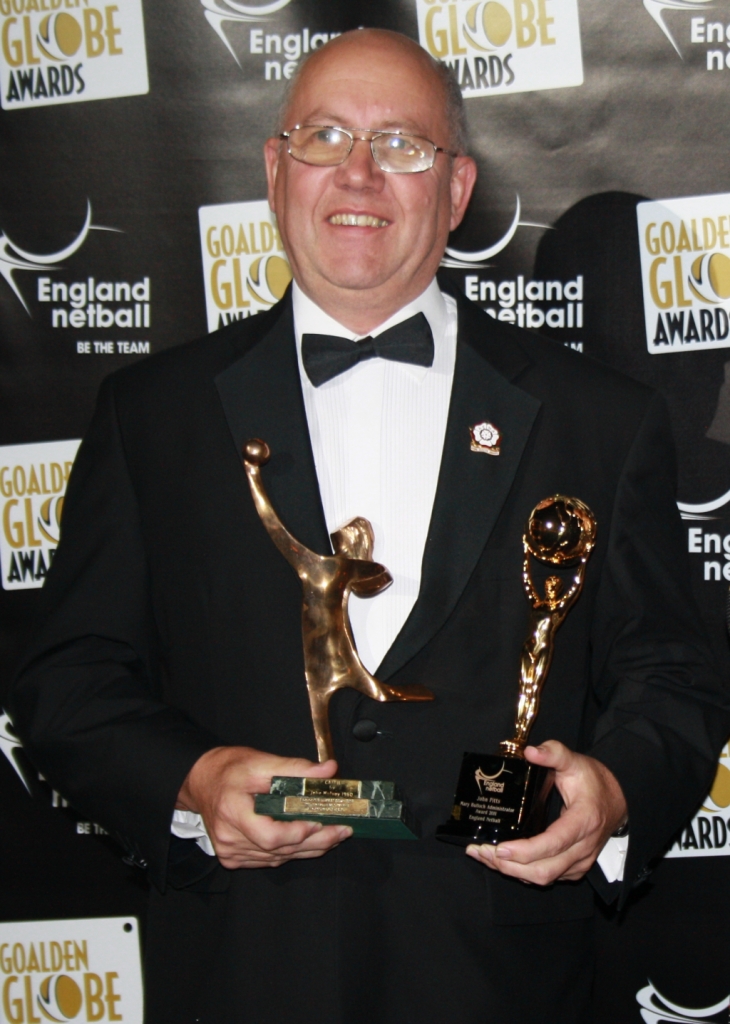 John with the Goalden Globe and Mary Bulloch trophies